DRUMHALLA HOUSE is one of Irelands most scenic, alternative wedding venues. Situated at the foot of Kinnegar Beach in Rathmullan, Co Donegal.
Come and enjoy an exclusive country house wedding with stunning views, providing the perfect setting for your special day!
Steeped in history, the house was originally built in 1789 by Dr Knox of Lifford. The house and grounds have now been beautifully restored by the present owner and offer luxury accommodation as well as a unique, private location for a variety of functions including weddings and corporate events
Drumhalla House offers superior 5 star accommodation and is a much sought after and unique wedding venue.
Panoramic views over Lough Swilly and the renowned Kinnegar beach provide the perfect backdrop for your wedding day! The beautifully maintained grounds and lawns at Drumhalla House may be absorbed and thoroughly enjoyed by your guests at their leisure.
Our Country Manor House has been lovingly restored. Overlooking beautiful parkland lawns and a woodland oasis. Steeped in history, it has everything that you would expect and so much more!
Allow our Country Manor House, complete with 5 star accommodation at Drumhalla to transform your wedding ideas into the fairytale you always dreamed of. All of our bedrooms are completely individual and unique and everything one would expect in a much loved Country Manor House. The rooms are very comfortable and traditional in style and filled with carefully chosen furnishings. They are located on the 1st floor of the house and provide varied views over the gardens and courtyard.
Weddings at Drumhalla
Drumhalla House is licensed to host Civil Ceremonies and Civil Partnerships.
Exclusive use of the property is offered to all weddings which includes our 13 beautifully appointed bedrooms and a variety of other leisure rooms providing accommodation for 28 / 30 guests.
Exclusive use of the property extends for both 2 / 3 day packages
WEDDING MARQUEE
Our permanent wedding marquee is situated inside the estates original walled garden.
It can seat up to 300 guests for your wedding reception.
It boasts breathtaking views of Kinnegar beach and the surrounding countryside.
The perfect location for that once in a lifetime event.
We want you to design your own wedding celebration so that it reflects your personality and your love for each other. We encourage you to use as much of the estate as you wish.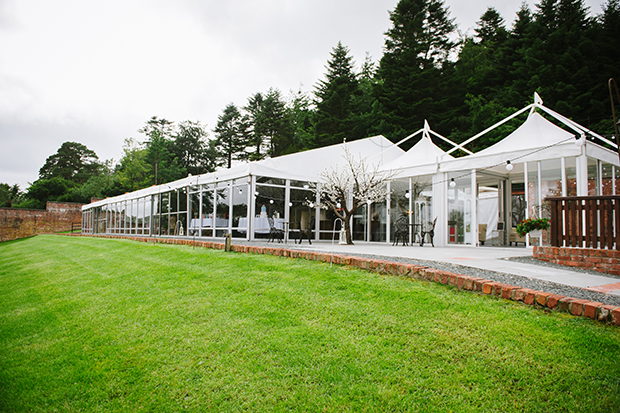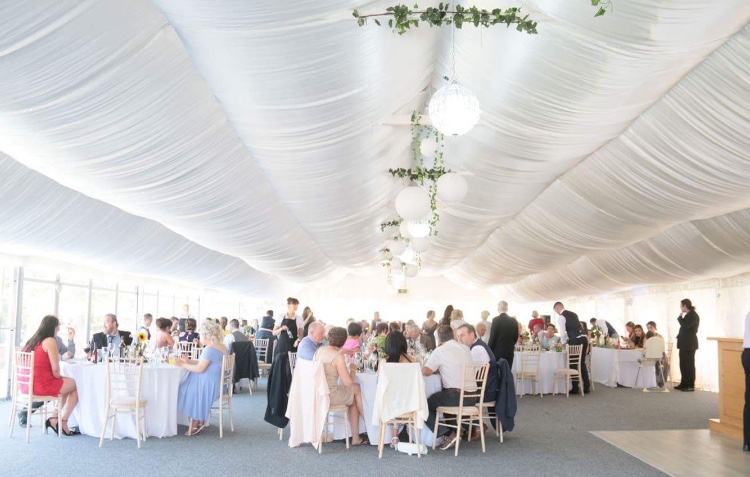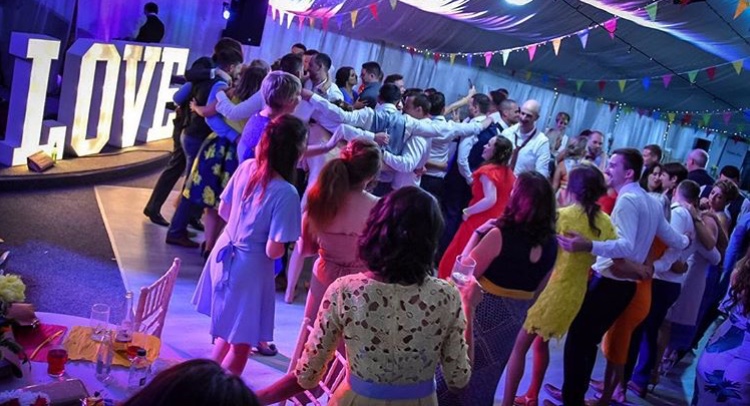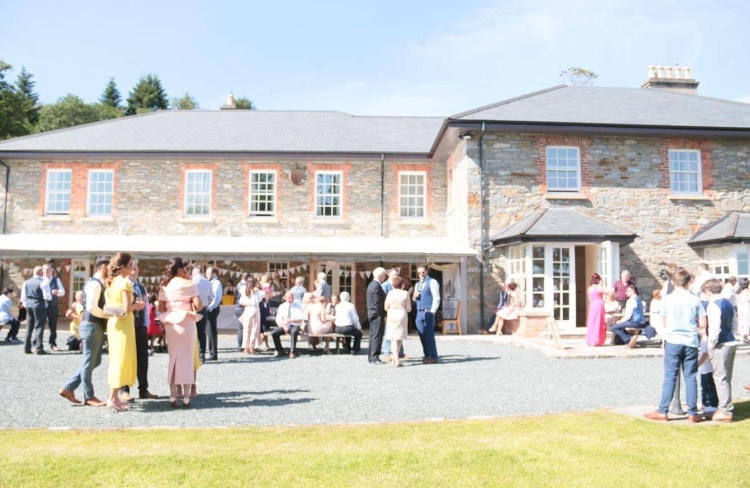 YOUR PERFECT DAY
We can accommodate a maximum of 300 guests at a wedding reception and have no minimum number of guests required.
There are 13 bedrooms in total which are exclusive to the wedding party and their guests.
Costs for marquee hire and accommodation are available on request.
There are no corkage fees or any other charges. We encourage wedding couples to provide their own champagne, prosecco and wine for the champagne reception upon arrival and their own wine for the meal. This means a significant saving for the wedding couple. Any other alcoholic beverages must be purchased from the on site bar, as we carry a full bar license.
Drumhalla House is a private wedding venue, so is exclusive to yourself and your wedding guests for the duration of your booking.
The wedding party has exclusive use of the 50 acre estate for the duration.
We are licensed to hold civil ceremonies and hold them regularly both indoor and outdoor on our lawns, with beach view.
We work with our preferred caterers, who will be happy to quote you on the desired menu of your choice:
Arbutus Catering: www.arbutuscatering.com
Email: barry@arbutuscatering.com / Phone: 0044 7818673339
Yes Chef Catering: www.yeschefcatering.ie
Email: info@yeschefcatering.ie / Phone: 00353 876843311
Prices for your meal can vary and is very much dependent on your choice of menu. They are happy to facilitate a lunch/BBQ the day after the wedding reception for guests staying on the property and a number of additional friends and family.
Our package includes the provision of a pay bar and license and wedding
guests are expected to finish up and vacate the property at about 2 am.
ACCOMMODATION
We have sleeping accommodation for 28/30 guests on the estate. And there is a variety of accommodation close by including hotels, B&Bs, apartments and houses to rent.
We regret that no dogs are allowed.
The Gallery below shows some of our beautifully appointed bedrooms and living areas.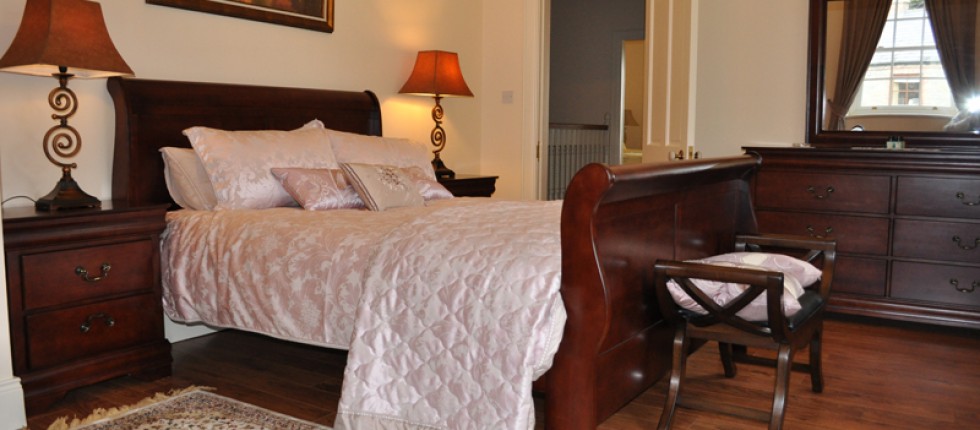 TESTIMONIALS
We went to a friends wedding here earlier this summer. The location, gardens, house, marquee, and beach are heavenly. The wedding reception was held in a marquee inside a beautiful walled garden. Champagne was served on the patio in front of the marquee before the meal and as night fell two amazing cherry blossom light trees came to life drawing people outside. Think Meet Joe Black (Brad Pitt Film) and the garden party night scene.
A great day at a wedding in Drumhalla yesterday. Top class event. Congratulations! Views from marquee were stunning. Grounds very well maintained. Staff friendly and very helpful. Amenities first class.
Wedding was truly perfect !!

Firstly, from the moment we viewed Drumhalla Estate we knew we had found our dream wedding venue. Words could not describe how I felt pulling up to the main house in person and walking around the grounds and walled garden for the first time, it was beyond my imagination.

Damien, Aidan & Siobhan accommodated our requests with no hesitation. In the run up to our wedding I was averaging about 1-2 emails per day for almost 2 weeks straight!! They were so understanding, patient and answered all my last minute questions in detail which i am so thankful for as it put my mind at ease.

It came to the day and I was so nervous (plus very excited).We managed to get a beautiful day so we were able to have the ceremony in the walled garden. The sun was shining, the sea was sparkling and the skies were blue. The intimate setting and beautiful grounds was perfect for our wedding photographs. We even got some taken on the beach with our wedding party!!

All our guests are still raving about the best wedding ever. We had the best day of our lives and Drumhalla provided us 5* service. I would highly recommend anyone to get married at this magical venue. Special thanks to Damien and Aidan for taking such good care of us, they were brilliant!! We cant wait to go back!!
Me and my husband had our wedding in Drumhalla House on 1st July 2016.
I don't think I will be able to put into words just how amazing and beautiful Drumhalla House is and its surroundings.
Our guest and our bridal party enjoyed the marque which comfortably held our 170 people, and the views in every direction were breathtaking.
We were thoroughly impressed with Aidan (the owner) he was so warm to chat to and explained all our options. A pleasure to deal with!
Our family and bridal party took up the rooms in the house, which were all massive and furnished with the most amazing furniture.
Lots of other B&B'S and houses to rent close by for other guests too.
We stayed from the Friday to the Monday, but would love to have stayed longer, it's like a dream, a bubble that you won't want to leave.
Drumhalla House, Gortflugh,
Rathmullan, Co Donegal
Phone: 00353 872453349
Email: info@drumhallahouse.ie
For wedding enquiries please contact our wedding and events co- ordinator: 
Phone: 00353 861909625
Email: siobhan@drumhallahouse.ie